30th Anniversary Concert Season Special Event

Youth Symphony & Youth Symphony Alumni Concert
Concert Season Funding
Anna Dunlap
Alumni Concert Partner

Carpenter Foundation

Carrico Family Foundation

City of Ashland (Ashland lodging tax revenues)

Cow Creek Umpqua Indian Foundation

James F. & Marion L. Miller Foundation

Oregon Arts Commission
(a state agency funded by the State of Oregon)
Roger G. Hewitt Fund for YSSO of The Oregon Community Foundation

Trust Management Services, LLC (Braemar Charitable Trust)

& The Friends of the YSSO
As part of the 30th Anniversary Concert Season the Youth Symphony of Southern Oregon will present the Youth Symphony & Youth Symphony Alumni in a special performance on December 20, 2017. The performance will highlight the Youth Symphony and showcase accomplished former musicians. The concert will feature soloists Abby Young, violin, and Gabe Young, oboe, Shaina Evoniuk, violin, and violinists Kathleen Strahm and Heidi Strahm Smith. The program will include music by Bach, Tchaikovsky, Beethoven, Reich and some surprises!

Tickets are available through the Craterian Theater box office (541-779-3000). All tickets are $20 (open seating).

Craterian Theater Box Office Information

December 20, 2017, 7:30 p.m.
Craterian Theater at The Collier Center for the Performing Arts
23 S. Central Avenue in Medford

Youth Symphony & Youth Symphony Alumni Concert Poster
Program:
Richard Wagner (arr. Siennicki), Overture to Die Meistersinger

J.S. Bach, Double Concerto in C minor, BWV 1060
Abby Young, violin and Gabe Young, oboe

Steve Reich, Duet for Two Solo Violins & String Orchestra
Kathleen Strahm, violin and Heidi Strahm Smith, violin

Piotr I. Tchaikovsky (ed. McAlister), Nutcracker Ballet - Three Dances
Dance of the Sugar Plum Fairy, Chinese Dance & Waltz of the Flowers

Led Zeppelin (arr. M. Jacobs), Kashmir
Shaina Evoniuk, electric violin

Leroy Anderson, Sleigh Ride

Ludwig van Beethoven, Symphony No. 5 in C minor, Allegro (mvt. 4)
Featured Youth Symphony Alumni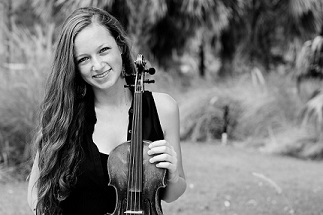 Violinist Abby Young grew up in Ashland, Oregon, and received her Bachelor's Degree in Violin Performance at the University of Oregon where she was a student of Fritz Gearhart. She earned Master's and Doctoral Degrees in Violin Performance at the University of Miami's Frost School of Music, where she studied with Scott Flavin and served as a Graduate Teaching Assistant, Henry Mancini Institute (HMI) Fellow and Personnel Manager of the HMI Orchestra. Her doctoral research culminated in her thesis entitled "Job Satisfaction of Orchestral Musicians: The Effects of Non-Performance Organizational Roles."

As a member of the HMI Orchestra, Ms. Young performed live in concert with John Williams, Kristin Chenoweth, Quincy Jones, Gloria Estefan, Ben Folds, Bruce Hornsby, Barry Manilow, Matthew Morrison, Bobby McFerrin, Chick Corea, George Benson, Arturo Sandoval, Mark O'Connor, Jon Secada, Rita Moreno, Dave Grusin, Shelly Berg and Terence Blanchard.
Currently, she is a member of Miami's Nu Deco Ensemble and also serves as Personnel Manager. In addition, she performs regularly with the Naples Philharmonic, where she has shared the stage with artists such as Itzhak Perlman, Midori, Immanuel Ax and Joshua Bell. Ms. Young has also performed with the Palm Beach Symphony, Miami Symphony, Miami Bach Society, Julio Iglesias, Michael Bolton, José Feliciano, Natalie Cole, the Marley Brothers, and DJ KSHMR at the Ultra Music Festival. In addition to her performance schedule, Abby maintains a private violin studio.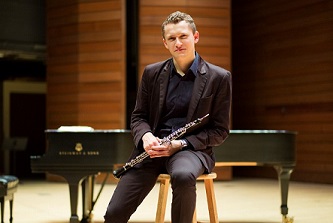 Born and raised in Ashland, Oregon, Gabe Young began playing saxophone at an early age. He picked up the oboe in the fifth grade, excited by the opportunity to play in an orchestral setting with the Youth Symphony of Southern Oregon, of which he was a member for eight years. While studying at Ashland High School, Young was named to numerous all-state and regional ensembles. In 2012, he attended the Interlochen Summer Arts Camp as a recipient of the Frederick Fennell Scholarship. He was the four-time Oregon State Solo Competition champion and was named to the National Youth Orchestra (NYO) of the USA in 2013, its inaugural year, and again in 2014. It was on consecutive tours with the NYO-USA that he had the honor of performing under the batons of esteemed conductors Valery Gergiev and David Robertson, and alongside renowned violin soloists Joshua Bell and Gil Shaham. Most recently he has appeared with the New World Symphony, Louisville Orchestra, Kentucky Opera, Henry Mancini Institute Orchestra and the Britt Festival Orchestra.

Young's classical career includes guest solo performances with the Rogue Valley Symphony, Indiana University Symphony Orchestra, Second Street Baroque Orchestra and the Youth Symphony of Southern Oregon. In July 2015, he performed Alessandro Marcello's Oboe Concerto with the National Symphony Orchestra Summer Music Institute Orchestra at the Kennedy Center in Washington D.C., after winning the institute's concerto competition. He also won Indiana University's Woodwind Department Concerto Competition and received second prize at the 2016 International Double Reed Society's Young Artist Competition.

He has performed and been interviewed on National Public Radio, Sirius/XM Satellite Radio, and BBC Radio and Television. Young's recent recording projects include features on the album Canto América (Wayne Wallace, Michael Spiro, La Orquesta Sinfonietta)- a 2017 Grammy nomination for Best Latin Jazz Album, and the film Glass Garden, which was selected to open 2017 Busan International Film Festival.

Now in the final year of his undergraduate studies, Young is a student of Linda Strommen at the Jacobs School of Music of Indiana University, where he holds the John H. Reese Scholarship within the Wells Scholars Program.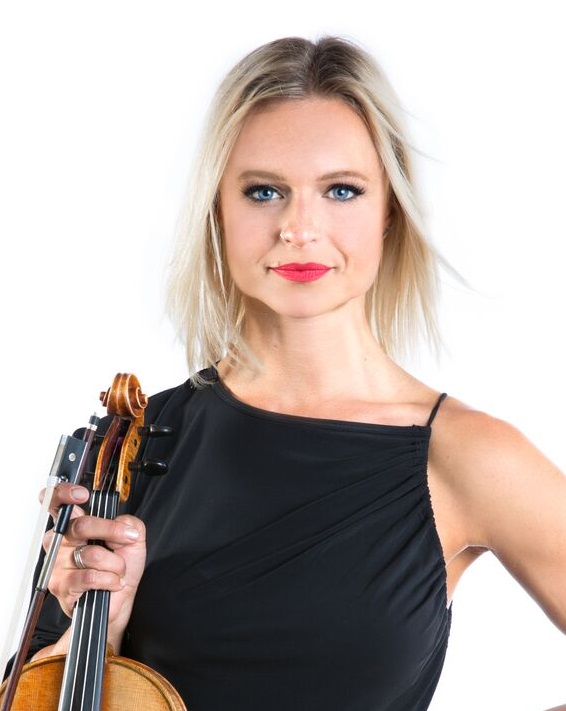 Electric and acoustic violinist, composer and band leader, Shaina Evoniuk has been dazzling audiences for more than a decade. Whether she's flying overhead on an aerial rig, rocking with a hip-hop band, performing solo, or playing with the numerous bands she leads, audiences will experience her contagious energy and virtuosic force.

Shaina earned her Bachelor of Music in Violin Performance from the San Francisco Conservatory of Music, and has studied at the Berkeley Jazz Conservatory, as well as with Mark O'Conner, the Cavani String Quartet and other greats. She has performed worldwide and has appeared at Carnegie Hall, Beijing's Spring Festival, Lincoln Center, the Montreal Jazz Festival, NFL Super Bowl, and throughout Europe, India and Asia.

Her debut album, Hitwoman Honey, was released in 2017 to critical acclaim. Currently the leader of San Francisco's Jazz Mafia string section, she is also the violinist with William Close & the Earth Harp Collective. Recent credits include performances with The Dear Hunter, Train, Beats Antique, Monophonics, Barrage, DJ Qbert, Third Eye Blind, Macy Gray, Latyrx, Chicago, Narada Michael Walden, Roy Ayers, David Grisman, Geographer, Zion-I, Lyrics Born, Chali 2na, the Dodo's, Liz Phair and many others.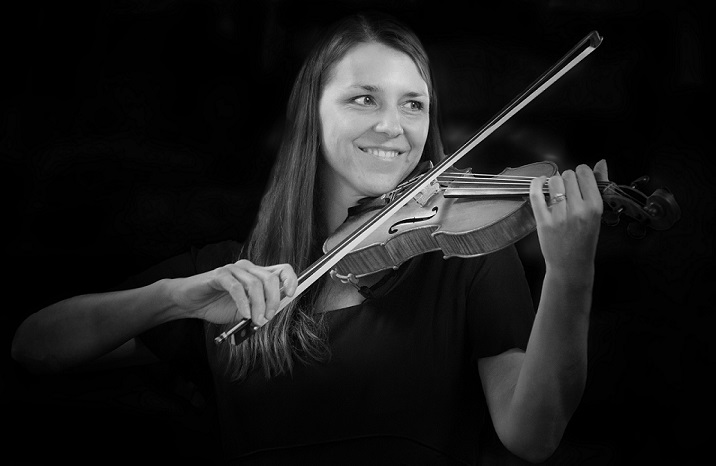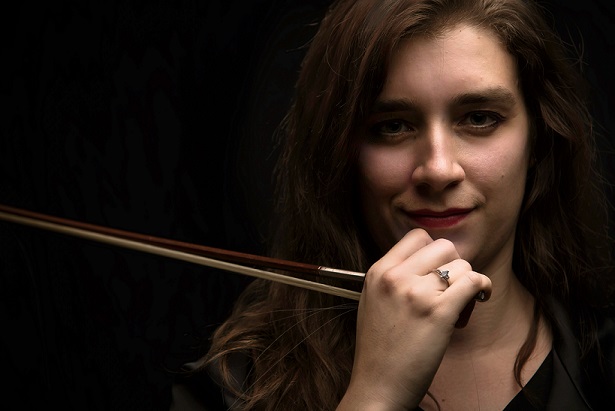 Sisters Heidi (Strahm) Smith and Kathleen Strahm grew up in the Rogue Valley. Heidi was Kathleen's first violin teacher. Students of Kendra Law and Faina Podolnaya, Heidi and Kathleen had the honor of performing with Youth Symphony Alumni Concert soloists, Abby Young and Shaina Evoniuk, at Carnegie Hall with Siskiyou Violins, led by Faina Podolnaya.

Both were active participants in the YSSO organization for many years prior to leaving the Rogue Valley to pursue degrees in music. Heidi received her Bachelor of Music in Contemporary Music from Western Oregon University. She currently teaches violin and viola in southern Oregon, as well as via Skype. Kathleen recently was awarded a Doctor of Musical Arts in Violin Performance from Arizona State University. She performs regularly and currently serves as Associate Concertmaster of the Rogue Valley Symphony.

Kathleen and Heidi are innovative entrepreneurs and often collaborate with each other on projects through Oddly Noted (www.oddlynoted.com), an online platform dedicated to "making classical music human again" by combining classical music with humor.