Concerto Competition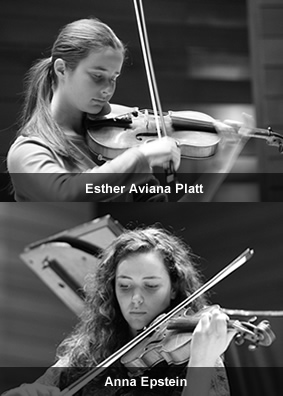 Each year, several advanced Youth Symphony musicians compete for an opportunity to play a concerto or concerto excerpts with the Youth Symphony. The public is invited to attend the annual Concerto Competition to hear the performances by the competitors. The 2014 Concerto Competition wil take place at 7:30 p.m. on January 27, 2014, at Southern Oregon University's Music Recital Hall in Ashland.

Last year, twelve outstanding Youth Symphony musicians competed for an opportunity to perform as a soloist with the Youth Symphony. The judges selected violinists Anna Epstein and Esther Aviana Platt to play as soloists with the Youth Symphony during the 2013-2014 Concert Season. The judges were Kristin Kessler and Thomas Stauffer.

In order to be eligible to participate in the Concerto Competition, musicians must be current advanced-level Youth Symphony musicians, at least 14 years of age and in high school (or 14 years of age and high school equivalent level if home-schooled) at the time the Intent to Participate form is submitted. There is a submission deadline each year. Each eligible Concerto Competition participant must pay a non-refundable fee of $25. The fee helps defray venue rental and stage management expenses, and adjudicator fees. The $25 fee must accompany the Intent to Participate form. The form must be submitted on or before the submission deadline.

The YSSO organization's governing board and staff reserve the right to pre-screen musicians if the YSSO receives a large number of applications from eligible Youth Symphony musicians. Musicians who have won the YSSO organization's Concerto Competition in the past are not eligible to participate in the Competition again.

Eligible Youth Symphony musicians may contact the YSSO office for more information.