Fall Concert Series - November 10 & 11, 2012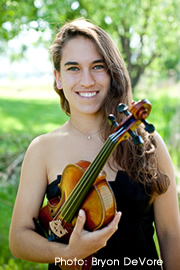 Concert Season Funding
James M. Collier
Concert Season Partner

Combined Transport, Inc.
Concert Series Partner
Carpenter Foundation
City of Ashland
Oregon Arts Commission
Collins Foundation
National Endowment
for the Arts
Sharkey Family
Charitable Foundation
U.S. Bancorp Foundation
&
The Friends of the YSSO


Saturday, November 10, 7:30 p.m.
Craterian Theater Medford
Sunday, November 11, 3:00 p.m.
SOU Music Recital Hall Ashland
Program
Youth Symphony
Johannes Brahms, Academic Festival Overture
Henri Vieuxtemps, Violin Concerto No. 5 in A minor
Elana Cooper, Violin Soloist
John Adams, Short Ride in a Fast Machine
Youth Orchestra
Hector Berlioz (arr. Meyer), March to the Scaffold
Robert Bauernschmidt (arr.), Beseda
Johannes Brahms (arr. Leidig) Symphony No. 1, finale
Youth Strings
Sheila Nelson, Polka
J.S. Bach, Minuet No. 1
Traditional, Bile 'em Cabbage Down

Elana Cooper, violin
Youth Symphony Soloist

Elana Cooper a winner of the Youth Symphony of Southern Oregon (YSSO) organization's 2012 Concerto Competition and member of the Youth Symphony, has been involved in the YSSO organization for ten years. An Ashland High School (AHS) senior, Elana's music teacher at AHS is Gerry Paré. Previous school music teachers include Jenifer Carstensen, Dwayne Johnson and Jon Soderberg-Chase. She has studied violin privately with Faina Podolnaya for 11 years. In addition to her participation in YSSO ensembles, Elana has played in Siskiyou Violins, the Rogue Valley Symphony, Jefferson Baroque Orchestra and AHS ensembles, and she was selected to participate in the Oregon All-State Orchestra. A versatile musician, Elana also plays the trombone and guitar. She played trombone in the Youth Orchestra for two seasons.

She has participated in the Britt Festivals String Quartet Academy, Marc O'Connor Fiddle Camp, the Advanced Suzuki Institute at Stanford University and the Bowdoin International Music Festival, and has worked with several visiting artists presented by the Southern Oregon University (SOU) Chamber Music Series including Frank Huang (Ying Quartet) and Matthew Denton (Carducci Quartet).

When asked about her upcoming performances of Belgian composer Henri Vieuxtemps' Violin Concerto No. 5 in A minor, Elana observed, "[although] the work does not seem to be played often . . .  the beautiful melodies have grown on me and I have come to love it. I am excited to share it with everyone in the Youth Symphony and in the audience."   Composed in 1861, the work consists of three movements: Allegro non troppo; Adagio; Allegro con fuoco. The second movement borrows from an aria in the one-act opera Lucile by André Grétry.
Upon graduation from AHS in 2013, Elana plans to attend college although her field of study is undetermined at this time. She hopes to explore an interest in languages and plans to continue her involvement in music throughout her life.

Photograph: Bryon DeVore Photography