Winter Concert Series - February 19, 20 & 21, 2016
Concert Season Funding
Carpenter Foundation

Carrico Family Foundation

City of Ashland (Ashland lodging tax revenues)

Collins Foundation

Cow Creek Umpqua Indian Foundation

James F. & Marion L. Miller Foundation

Oregon Arts Commission, a state agency funded by the State of Oregon and the National Endowment for the Arts

Pacific Power Foundation

Trust Management Services, LLC (Braemar Charitable Trust)

& The Friends of the YSSO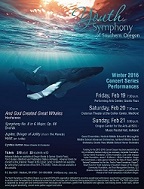 Performances:

Friday, February 19, 7:30 p.m.
Performing Arts Center, Grants Pass High School
Saturday, February 20, 7:30 p.m.
Craterian Theater at the Collier Center, Medford
Sunday, February 21, 3:00 p.m.
Oregon Center for the Arts Music Recital Hall at SOU, Ashland

Winter Concert Series Poster (.jpg)

Ticket information

Program:
Youth Symphony
Dvorak, Symphony No. 8 n G Major, Op. 88
Hovhaness, And God Created Great Whales

Youth Orchestra
Holst, Jupiter, The Bringer of Jollity (arr. Leidig)
Bauernschmidt (arr.), Beseda
Mendelssohn, Fifth Symphony, "Reformation," finale (arr. Leidig)

Guest Orchestras

February 19
Grants Pass Middle School Honor Orchestra
Orchestra Directors: Laura Boldon, Eric Cousineau, Krista DeBolt

February 21
Ashland Middle School 7th & 8th Grade Orchestra
Orchestra Director: Lauren Trolley

Music by Percy Grainger, Kenneth Baird, Clarence Barber and others.