Rehearsal & Concert Schedule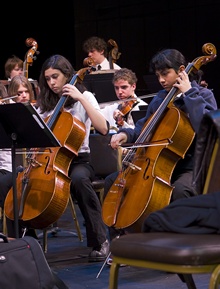 Unless otherwise noted on the schedule or announced via the weekly e-mail reminders, rehearsals are held at North Medford High School. NOTE: Please be aware that some rehearsals will be held at other locations and facilities again this season.

Evening rehearsals for Youth Orchestra and for Youth Symphony are scheduled the week prior to each Concert Series.

Rehearsal reminders are also posted on the Weekly Reminder page on the website. YSSO organization musicians and families should consult the schedule and watch for e-mail alerts throughout the year for updates, schedule changes and reminders about full ensemble and sectional rehearsals, special activities or events, and Concert Series or Community Outreach Concerts.

Regular rehearsals are as follows:
| | |
| --- | --- |
| Youth Orchestra: | 1:00 - 2:45 Band Room |
| Youth Symphony: | 3:00 - 5:30 Band Room |
Please be aware of the "early start" rehearsals in the schedule. Read and download the schedule throughout the season for rehearsal/concert schedule updates.

Please click the following link 2017-2018 Concert Season Calendar (as of October 8) to view/print a schedule of auditions, rehearsals and concerts. Be aware that times, dates and locations are subject to change. Review and make note of all regular Sunday rehearsals, "early start" Sunday rehearsals (and times), evening rehearsals and the dates, times and locations of rehearsals and concerts. Updated schedules will be posted and can be downloaded throughout the concert season.

Sectional rehearsals for Youth Orchestra and Youth Symphony string, woodwind and brass musicians are scheduled periodically throughout the year. Attendance at regular, evening and sectional rehearsals is required.

Please note the special concerts and venues scheduled during the 30th Anniversary Concert Season.